Drinking Water Promotion Project
The goal of the Drinking Water Promotion Project (DWAPP) is to increase equitable access to and consumption of safe, delicious tap water within Bay Area schools.
Drinking water is critical for the health and well-being of all people. Unfortunately, the Flint water crisis that came to light in 2014 has had a ripple effect across the country, sparking fear in the safety of tap water, especially among vulnerable populations. Education is needed to support these communities to understand the safety of the Bay Area's local water sources, the health benefits of drinking tap water, and what resources are available to them to improve access or quality of their tap water.
Schools are in a unique position to promote healthy behaviors, including drinking water. More than 95% of children and adolescents are enrolled in schools, and students typically spend at least six hours at school each day. Access to safe, free drinking water helps to increase students' overall water consumption, maintain hydration and can enhance a student's' ability to learn.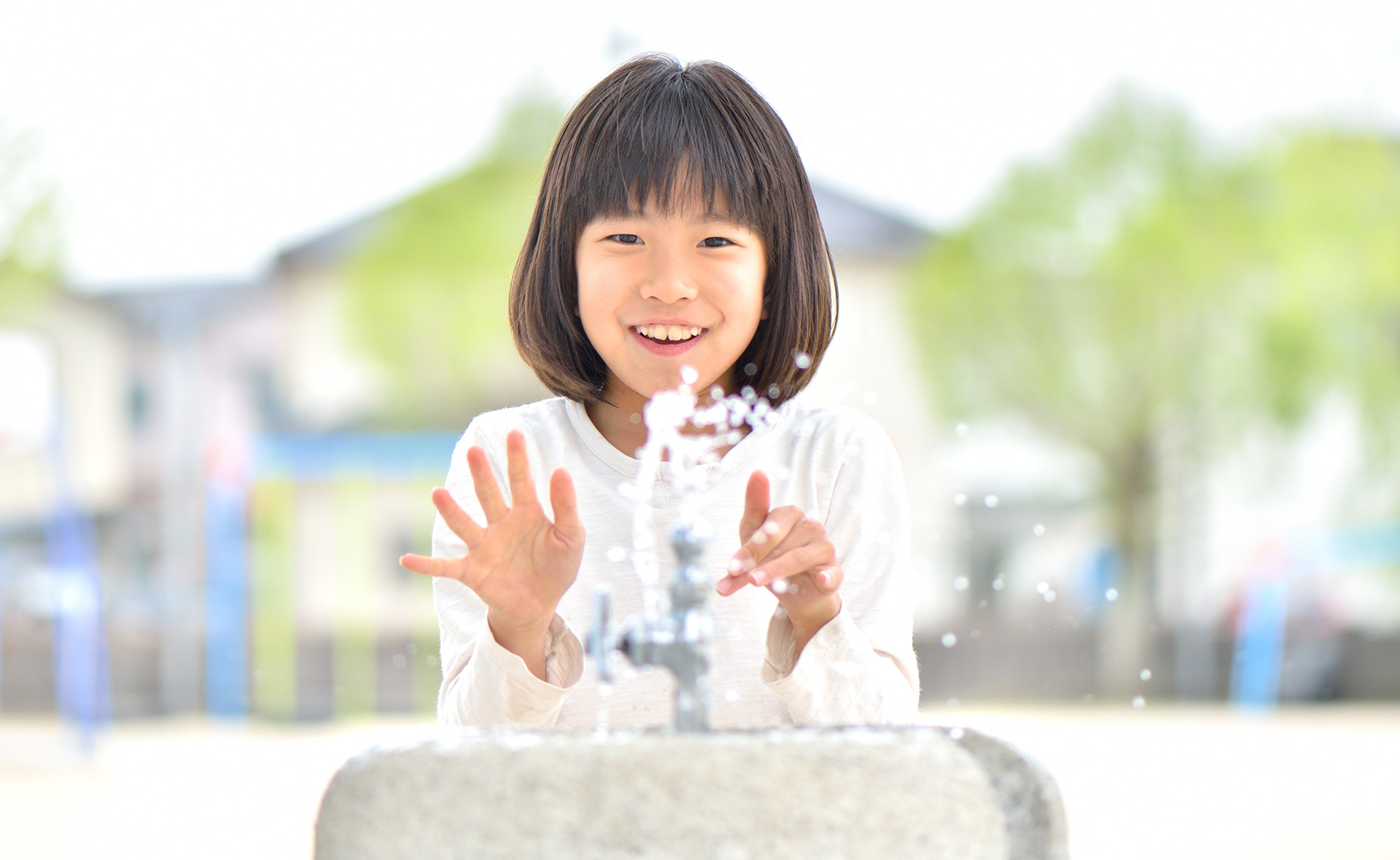 In January of 2017, the State Water Resources Control Board Division of Drinking Water (DDW) announced that community water systems are required to collect and analyze water samples from drinking water fountains and regularly used drinking water faucets at the school site if requested by a school official.
According to the California Water Boards, many schools were not taking advantage of this opportunity. As of June 2017, less than 6% of the 9,000 K-12 schools in California requested the free lead tests and of those that have tested, 23% (124) were schools within the Bay Area. There are approximately 2,300 public K-12 schools in the Bay Area, so only 5% had taken advantage of this opportunity.
Effective January 1, 2018, AB 746 requires all schools built before 2010 to test their water for lead, making the systematic approach that DWAPP develops even more timely.
Drinking Water Promotion Project (DWAPP)
In response to these opportunities, BANPAC was awarded a one year grant from Kaiser Permanente Regional Community Benefit Program to promote drinking water in Bay Area schools in July, 2017.
 The goal of the Drinking Water Promotion Project (DWAPP) is to increase equitable access to and consumption of safe, delicious tap water within Bay Area schools. To achieve our goal, BANPAC will develop a systematic approach to support bay area school districts to get free water lead tests and to promote water consumption within the school community.
Water Committee
 BANPAC has convened a multi-sector committee of water experts that includes participation of:
National Drinking Water Alliance

Alameda County Healthy Homes
Public Health Advocates
UCSF
Dr. Anisha Patel
Water agencies including SFPUC and EBMUD
Epidemiologists
School districts
Lead prevention agencies
Local Public Health Departments
 The Water Committee met on the 3rd Wednesday of each month from 9:30-11 AM at the state building in Oakland (1515 Clay St.) From Sep 2017 to June 2018. For more information about the project, contact Sonali, the DWAPP Coordinator. [link to Sonali's email: ssuratkar@gmail.com]DWAPP Deliverables – more information coming soon!
Phase 1: Information gathering (convene water experts, key informant interviews, etc.)
Phase 2: Developing materials (curate existing water promotion materials and resources)
Phase 3: School recruitment
Phase 4: Water promotion and evaluation
Phase 5: Document systematic approach and evaluation
DWAPP was successfully completed in 2018. 
Ten school champions engaged students in water promotion activities reaching approximately 10,000 students, parents and school staff. DWAPP school champions celebrated water throughout the school by doing education around water – conducting water assembly, teaching curriculum on the importance of water, doing poster/ water bottle logo design competitions. The students really enjoyed drinking spa water and developing new flavor combinations. Most of the champions purchased water bottles for the students.
Champions were successful in influencing the students as they saw them fill their bottles with water rather than colored sugary beverages. Students took up responsibility either to educate their peers, prepare spa water, or help conduct school-wide activities. The message was reinforced as they took ownership in the various activities and gravitated towards spa water rather than soda in the events following the water promotion.
DWAPP water fact sheet was sent to the parents to inform them about the safety of the water on campus, importance of hydration and drinking tap water vs. bottled water. The DWAPP team is grateful for the amazing work the champions have done in the schools.​
Two systematic approaches evolved:
1. Partnership with East Bay Municipal Utility District (EBMUD) to capture systematic approach of implementation of efficient and accurate district-wide testing in schools.
2. Engaged District Wellness leaders to support water promotion work
Read the full report for details.
DWAPP findings were shared at Public Health Advocates' Water Summit and American Public Health Association 2018.
Drinking Water Promotion Project (DWAPP)
Get Updates to BANPAC Happenings
Sign up for our newsletter today and get updates to all things related to the Bay Area Nutrition and Physical Activity Collaborative, including news, events, and resources.